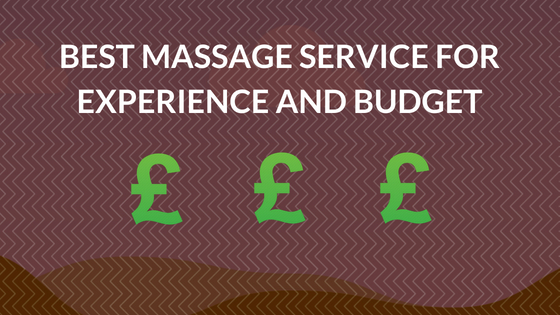 Best massage service for experience and budget
Getting a good massage shouldn't cost you an arm and a leg. Follow this guide to ensure you know how to get the most for your money.
EXTRAS- Makes sure you know what's included and what isn't.  When booking a massage you may have particular extras in mind, but if you don't assume they're extras then you might be surprised by how many extras you have racked up. So ASK if you're not sure, most companies will charge anything from £20-£50 extra for things like kissing, soapy showers, foot fetish play, and oral without. Some parlours have special packages to suit client needs. It is good to ask about these. It is often better to get the 'full-service package' which will include a massage, oral and sex, as opposed to paying for all these services separately.
Know what massage will match your needs. Some massages include a lot of services in one package, for instance, if you request a parlours 'full service' you will get a massage of your choice, oral and sex for a fraction of the price of what it would cost to get all these things separately.  You can think of it as the meal deal option of the erotic massage world. A mistake a lot of people do is go for the cheapest service initially but then rack up a lot of extras so that by the end of the session they have spent way more than they would have if they had gone for a more expensive package originally.
Every parlour is different, no one is the same. Prices, services, masseuses can be all different but the same policies apply. If there is something that could be an extra, the likelihood is that it is. Make sure you are fully informed before booking massage what that service includes. The most common mistake new clients make is assuming that the 'girlfriend experience' is included. It feels natural to kiss your masseuse when you are getting intimate but if you kiss her then it's an extra. Most people are happy to pay the extra but it's good to know beforehand so you can make sure you have enough.
THE LOW BUDGET MASSAGE
If you want an erotic massage but you haven't got much money to play with then avoid expensive massages like Japanese Nuru or Prostate massage, as good as these massages are they are gonna be pricey. Opt instead for a lower budget choice like Body to Body or Tantra. Tantra is an excellent choice if you want a great orgasm but don't want to pay for full service. The build-up of sexual energy created during a tantric massage will make choosing the lower cost happy ending option still a sure way to get orgasmic relief, without having to pay for intercourse. Similarly opting for the lingam massage if you want oral but don't want to pay extra for it, is a smart choice. The Lingam massage is all about the penis and you will get your fill of attention in that area that the extra costs won't be necessary.
INCALL
Choosing outcall is always going to cost you more as travel expenses for the masseuse are included in the price. If you can navigate public transport to get to one of the inner city parlours you will definitely save yourself a wad of cash. When you book an outcall you are just given one price with no real knowledge of how that number was determined. When you go into a parlour you can browse their entire price list and know for certain you're not being ripped off. Also, trade secret, you will always be refused a half an hour massage for outcall but you are likely to get away with this if you do incall. So if you want a really cheap massage to go for an incall and very very politely ask for a half hour massage. You might even get away with spending less than a ton.
TIPS
You don't have to tip so you can save money there, but I mean you don't wanna be a dick. What a lot of people don't realise is that masseuses accept all currencies so if you're looking to palm off the last of your euros, get rid of some leftover dollars save these for your tip.
WHERE TO GO?
There are many locations in the City of London for a budget massage while also having the best experience, Hotel Massage London offer many massage services to fit your fantasy and to also be not so costly while also having a high-class masseuse to enjoy your session with and believe me the masseuse will be the best part, not the cost. Call now on 07818115228 to book.