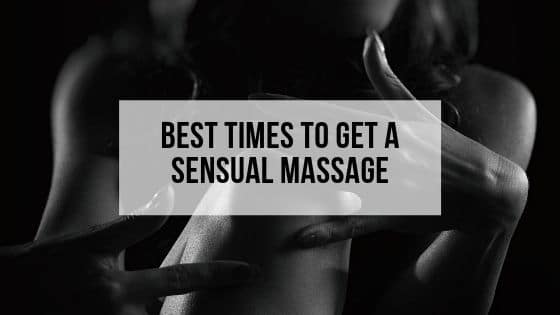 Best times to get a sensual massage
When is it the right or best time?
Let's be serious, there is no wrong time in your life to have a sensual massage. The service is sexy, stress-easing and seductive – providing everything you need to fulfil your naughtiest of needs and more. However, there are certain times when a sensual massage is needed more than others. Here are the BEST times to experience the soothing bodywork. 
You are painfully single
While many of us embrace the single life, others find it more of endurance. If you find yourself moping around your bachelor pad with a takeaway for one on a Friday night then it's probably time you sample a sensual massage. Sensual massage is ridiculously intimate, romantic and passionate. With the bodywork, you get all the sexual benefits of having a girlfriend, without the cons it sometimes comes with. And it just gets better, when you book a sensual massage with Hotel Massage London you are always given your first choice of girl for your massage. So if you're type is a petite pocket rocket, a boobylicious beauty or an athletic babe then we have it covered. Why worry about being super single when you can down and dirty with the girl of your dreams as part of a sensual massage?
You struggle to relax
Stressed out at work, going through troubles at home or suffering through money worries? Then don't worry, if you're struggling to switch off from your daily grinds then a sensual massage might just be all you need. Sensual massage is performed with a slow and soothing touch, which allows the stress hormone 'cortisol' to be flushed out of your stressed built-up areas (usually the neck, back and shoulders) In turn, the cortisol is replenished with the feeling good hormone Oxytocin. Oxytocin helps to erase negative thoughts and replaces them with positive feelings. Your mind-set will improve and ultimately will help you to relax, away from your worries. 
You are feeling under the weather
Of course, don't start visiting an erotic massage parlour if you're sick with the flu or common cold. Anything contagious should be treated as a red light for seeking a sensual massage. However, if you're feeling slightly under the weather with aches, pains and niggles then a sensual massage can greatly help you out. Scientists have proven that the naked skin-to-skin contact enjoyed as part of sensual techniques improves the rush of endorphins reached by the Central Nervous System (the brain). Scientists and medical practitioners have informally nicknamed endorphins as the 'body's natural painkiller' as they help to block the pain signals being reciprocated by the brain. In turn, you'll have ultra-rewarding relief for just about any pain experienced within your bod – whether that being a migraine, back pain or arthritis. So yeah, you can  put that box of paracetamol down as sensual massage can work all the same (and is MUCH more enjoyable!)
You are suffering from sleeping problems
Fed up of not being able to switch off and enjoy your zzzs at night? Well, we know just the solution and of course, it's a sensual massage. Studies have shown that enjoying the soft, soothing and seductive strokes of a sensual massage helps to boost the Serotonin level within the body. Serotonin has long been known as a vital component for getting a good night's sleep. Therefore, the higher levels you have, the better quality of sleep you will enjoy. It's important to note, that if you're visiting an erotic massage parlour due to sleep problems it's important to not to plan any strenuous activity on the same day. Taking part in exercise, manual work or doing chores around the house will only undo the benefits of having a sensual massage. 
Book a sensual massage today
So yeah, we've probably twisted your arm that you NEED to try sensual massage today. Here at Hotel Massage London, we host a variety of Chinese, Japanese and Korean masseuses who are available for incall and outcall across Central London. Our sensual massages might be professional, high-class and ultra-sexy but they certainly won't break the bank – and are available from just £120 for a one-hour session. If you want to find out more about our sensual massage, be informed of our therapist availability or even make a booking contact our friendly booking line today. We are open from 10 am to 3 am, seven days a week and can't wait to hear from you. 07818115228