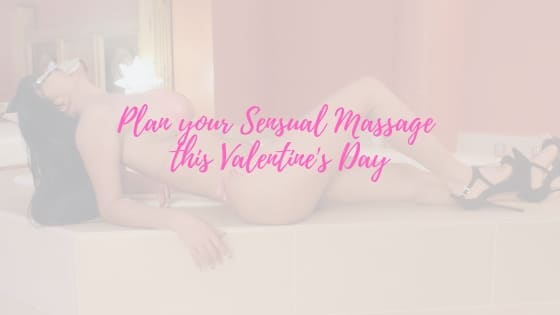 Plan a Sensual massage for Valentine 's Day
Have a Sensual Valentine's Day – erotic style!
With February fast approaching and Valentine's Day just around the corner, what better way to surprise your other half with a night of pleasure and romance by giving them a sensual massage. Life can be rather hectic at times and it can be difficult to bring things back to basics and share some quality time with your partner. Taking time to relax, listen to one another's needs and bonding with them is crucial for your relationship, especially if you want it to last for a long.
A sensual massage is a type of erotic massage that is meant to be highly relaxing yet sexually pleasing at the same time. It is the perfect way for you and your partner to feel calm and soothed, and for exploring each other's bodies. It requires a lot of communication between both sides which will make your relationship stronger and your time together more meaningful and intimate.
So, if you want to treat your loved one this Valentine's Day with something extra special, then here is a guide on how to give the perfect sensual massage…
Make the setting romantic

– A very important part of a sensual massage session is making the atmosphere relaxed, soothing and romantic. If you create this energy within the room then the overall experience will feel very magical. Lower the lights, light some scented candles, make sure space is clean and not cluttered and that you have fresh bed sheets. After all, a sensual massage is meant to clear the mind as well as feel good therefore you should make sure the setting is perfect. Seeing as it is Valentine's Day you could go that extra mile by adding rose petals to the bed, having a shower or bath together beforehand or by adding some sexual music to get you and your partner in the mood.

Dress to Impress –

As it is Valentine's Day, you want to wow your partner in every way possible, and what better way to do that than to dress up a little bit sexy. If you are a female, lingerie or stockings are always a winner, and if you are a guy, perhaps a new pair of boxers will send your partner crazy. You should make sure you are clean and smell nice as this will set the tone and make it a relaxing and sensual atmosphere for your partner. You could even buy something sexy for your partner to wear, giving them compliments about how good they look in it while you undress them.

Give them a proper massage –

Many people simply focus on the sexual side of things when performing any style of erotic massage, but it is very important to also stick to the basics and give them a full body to body massage too. Start from their shoulders, neck, upper and lower back and work your way down to their legs and thighs. Use your hands in a soft manner, but also press down firmly to release any muscle pain or tension. Once their body feels loose and at ease, this is the perfect time to make things a bit more sensual, using your fingers to caress and rub their sensitive spots.

Pay attention to their sensitive spots –

The best way to give a sensual massage is to focus on the parts of their body that are the most sensitive and will give them the best relief. Use your lips, fingers and tongue to please areas such as their genitals, neck, bum and nipples.
One of the best things about giving your partner a sensual massage at home for Valentine's Day is how cheap it is. Instead of spending lots of money on a fancy meal at a restaurant or theatre or booking a hotel room for the night, you can have an intimate and special time alone at home in one another's company. There is also added pressure to impress if you are stuck in a restaurant or hotel with lots of other couples around you celebrating their relationships, whereas if you are at home and are giving your partner a sensual massage you are taking the time to please and pleasure them in an intimate way.
Your sensual massage night in is the perfect way to rekindle the passion and love between you and your partner and it will certainly make you a better lover. You can rediscover your partner's sexual needs and desires while seeing them have an orgasmic experience all because of you, what better way to share the love on Valentine's Day!
If you are in the central London area and would like to experience our sensual massage experience then please do not hesitate to contact us via email, text or call to book an appointment. We are open daily from 10am-3am, and our oriental masseuses are available for both incall and outcall services. You will have a choice of the massage therapist you wish to have the massage with and our friendly receptionist is available to answer any questions or queries you may have regarding our services.
Come spend your Valentine's Day with us!