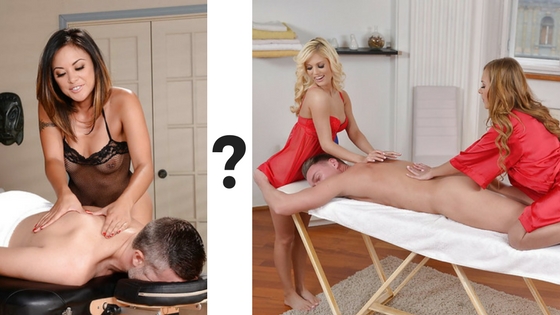 Why a 4 hands massage is better than one
Have you ever dreamt about two sizzling hot oriental girls caressing every inch of your body into a glorious euphoria? Well here at Hotel Massage you don't have to dream, we're here to make your naughty fantasies the most passionate realities. A four hands massage is the crème de la crème of adult services and definitely is one for the bucket list. Whether you need to melt your stresses away or are seeking a bit of raunchy TLC then it doesn't get much better than this sensational bodywork.
What is a four hands massage?
Four hands massage is self-explanatory; instead of having one gorgeous therapist attending to your naked body you'll have two. Once they've undressed you and slipped out of their sultry underwear they will each pick a side to massage you using powerful and insanely rewarding strokes in synchronisation. The techniques are constructed to super soothe and relax your body and mind. They also send your brain into a frenzy of sensual ecstasy. As your session progresses they will turn their attention to your most intimate areas – just wait until they sweep, cup and trail across your manhood in unison. If you're feeling super frisky why not have four hands full service? The whole experience is guaranteed to slide and grind you into a seventh heaven. But what makes it so much more rewarding than a generic adult massage?
You get the choice of two tantalising temptresses instead of one
At Hotel Massage we really do spoil you with choice when it comes to which therapist you have your session. Naughty Chinese pocket rockets, curvaceous Korean vixens and leggy Japanese babes – you name it, we probably have got it. Therefore we understand picking your masseuse is a hard job! However, the beauty of four hands massage means that you get to cherry-pick two of your favourite therapists – it really will feel like your Christmases have come all at once.
You get double the benefits
Not only do four hands massages feel insanely amazing but it basically has the same benefits as two full body massages, making it so much more rewarding than any other service we offer. Some of the double benefits include:
-Boosted blood and oxygen circulation                   
 – Reduced aches and pains       
   -Reduction in calories (four hands massage burns 130 calories which is equivalent to 15 minutes on a treadmill) 
  -Eliminates anxiety and depression           
   -Relieves sleeping problems including insomnia and depression
Who knew something so naughty could be so beneficial for your health?
It's intensely relaxing
The primary principle for many sought massages is relaxation but a four hands massage goes above and beyond. The power of the superior bodywork means the brain is unable to keep up and register the sensual pressure of all four hands. A few minutes into the session the body and mind will 'switch off' and allow your whole physique to absorb the full effects of the therapist's spine-tingling techniques. The most amazing thing about four hands erotic massage is that there is NOTHING off limits. This means your gorgeous oriental sirens aren't afraid to caress your erogenous zones which are guaranteed to get you moaning and groaning with the most toe-curling pleasure.
A four hands massage at Hotel Massage almost always results in a flurry of powerful happy endings. Orgasms have been proven to release oxytocin which stimulates the dreamiest relaxation. If you've ever thought a normal massage to take you to intense relaxing state then think again, a four hands massage can only be compared to a blissful trip to the sweetest serenity.
Get a four hands massage today
So, it's a no-brainer that a four hands massage is the spiciest and soothing massage available on an erotic massage menu. Once you've had a four hands massage at Hotel Massage you'll never settle for anything less. We offer the four hands massage with any of our sultry styles and is available for incall and outcall bookings. Prices start at £200 p/h when you come to our parlour and £280 p/h for external bookings. Our gorgeous oriental ladies can't wait to work their mesmerising magic on your naked body. So what are you waiting for? Dial our 24-hour hotline and book your four hands massage today.
Take a look at our four hands massage london service, also more services available for you gentlemen…