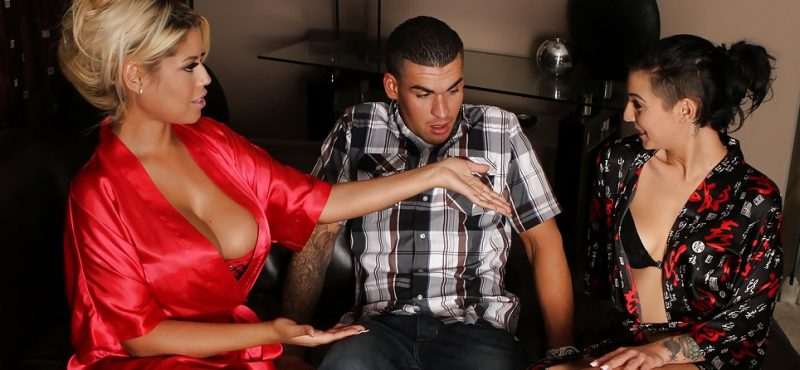 The 101 to 4 Hands Massage
It's safe to say most people have had a massage before, but it doesn't take a rocket scientist to work out why. Massages are insanely relaxing, and are a great way to let off some steam no matter what your age, profession or gender. However, if you're looking for the ultimate naughty massage, there's only one option for you- a 4 Hands Massage. It's double the masseuse, double the benefits, double the pleasure- twice as mind-blowing.
What is a 4 Hands massage?
Unlike other styles, this massage is performed by not one, but two expert masseuses. This service is often combined with another style of massage, such as a Tantric, Nuru or Prostate, and is designed to heighten pleasure across the body. There are various types of massage available, all of which are designed to target different areas and problems across the body, but all have the same aim: to relax your mind, body and soul. Experiencing these massages with 4 hands instead of two means you'll be twice as relaxed and you'll be twice as receptive to deeper tissue movements.
If you suffer from particularly bad aches and pains, a 4 Hands massage might be exactly what you need. The synchronized movements of your masseuses will iron out the tension in your body with twice the impact, meaning no knots will be missed. Alternatively, if you're just searching for toe curling, breath-taking pleasure, this is the answer. I mean, what could better than having two gorgeous, naked masseuses touching and stimulating you at the exact same time? Nuff'said!
What to expect
Essentially, a 4 Hands Massage is two body massages rolled into one, with a sprinkling of erotica on the side. It's the perfect recipe for holistic pleasure. Your masseuses will begin by performing a traditional full body massage whereby they will focus on kneading out tension across your body. They will switch between synchronized movements to alternate techniques for maximized results and pleasure. Whilst one masseuse attends to the left side of your body, the other masseuse will attend the right. No area of your body will be left untouched or unsatisfied- that's a guarantee.
Once you're relaxed, your masseuses will lay you on your back and the real fun will commence. Using slow, sensual movements and expert techniques, your masseuses will masterfully caress your intimate area… at the same time. You will experience sensations you've never felt before, you will feel pleasure you never knew existed, and all of this will be twice as incredible as any other type of massage. Although the purpose of the massage isn't necessarily to reach orgasm, you'd have to have to possess super human restraint not to!
Think about it- twice as many hands + twice the stimulation = the most intense orgasm you'll ever have. That's one hell of an equation if you ask me.
What are the benefits?
Aside from leaving with a seriously big smile on your face, the list of benefits associated with this massage is the real selling point. Unbeknown to most, pleasure is incredibly important for both your mental and physical health. Experiencing raw, undisturbed pleasure can seriously improve your body's functions and is also known to drastically help your mental health. Experiencing pleasure is the modern day medicine, so next time you go to book an appointment with your doctor, think again.
Pleasure encourages the production of:
Oxytocin ("the love drug") – A chemical known to increase the feeling of happiness.
Serotonin- A natural anti-depressant and mood stabilizer
Dopamine- This is directly linked with the pleasure center in the brain.
Prolactin- Reduces stress, anxiety and depression
As well as increased chemical production, experiencing pleasure is great for your physical health too. Although most people appreciate the importance of relaxation, most are unaware of how significant it actually is in terms of our health. Pure relaxation improves:
The circulation of blood across the body
Helps to regulate breathing
Improves the function of the organs
Relaxes the muscles
Of course, a 4 Hands massage will leave you physically shaking and trembling with pleasure, but they are not a quick-fix for stress like most traditional styles. All erotic massages have long-lasting benefits, but just imagine how powerful these changes can be when there are 4 hands involved. You do the math!
Where to get a 4 Hands massage
Luckily for you, most massage parlors offer this service, whether it's combined with a traditional or erotic massage. But, if you're going to pay for the holy grail of massage services, go hard or go home! That's our recommendation. For those of you, who are reluctant to venture to a salon, do not fear! Most massage businesses offer an outcall massage service.
With most London outcall services, business hours are infinite; i.e. massages are available for you at any time of any day. If you're staying in a hotel, most services can deliver masseuses of your choice right do your door, night or day. If you would however, rather be touched and caressed by two beautiful women in the comfort of your own home, no problem. The outcall services are designed to cater to your needs. Could it get any better?
What other massages can I combine this service with?
The list of erotic massages is endless, and all of which are specifically designed to unearth particular sensations and emotions within you. Erotic massages are incredibly powerful and spiritual, so it's important you pick the right one for you. Most salons advertise:
Tantric massages
Senaul massages
Erotic massages
Happy Ending massages
Prostate massages
Lingam massages
Body to body massages
Nuru massages
From slow and romantic right through to kinky and passionate, the choice is up to you.
4 Hands Massages can be intimidating if you've never experienced a naughty massage before, so it's important to go into it with an open mind. Like all erotic massages, the purpose of the session is to reconnect the mind, body and soul by teaching you to love your body. This experience can be life changing, and could be just what you need to achieve the ultimate, holistic release. Just remember that you can experience one of the best four hands massage london experiences by booking on our main website