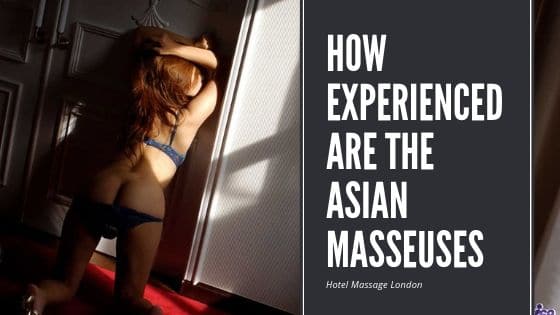 How experienced are the Asian masseuses?
A lot more experienced than you think…
Here at Hotel Massage London, we pride ourselves on offering each of our customers the best erotic massage experience of their life and one way we aim to do this is by only having 5* rated, beautiful masseuses who have been highly trained in this profession. One of the most important elements of the massage session is the connection between the customer and the masseuse. 
Are they professionally trained?
Many of our girls started off their erotic massage therapist journey as traditional therapeutic massage therapists. This enabled them to receive an educated knowledge and understanding of the body and how it works. 
How do we select our masseuses?
We put a lot of time and effort into finding the masseuses we believe are at the top of our game as we want to ensure our customers receive the best of the best. We tend to choose masseuses who are trained in both traditional massage therapy and erotic massage therapy as they have further knowledge and understanding of their profession, as well as more experience. All of our masseuses have been trained at some of the most elite massage therapy schools across Asia and have been carefully hand selected based on their beauty, hard work and skill. It is essential that our masseuses are dedicated to their profession and are open to constant training and learning. We put our girls through a series of exams, both a theory one and a practical test. 
Theory – Our theory exams tests the girl's knowledge of both traditional massage styles and erotic massage styles. Although we provide a lot of training, it is essential our masseuses know the basics about massage therapy as well as information about the body and the effect each massage style can have. Some of the extra knowledge the girls are expected to know is information such as where each style originated and what other styles they are best combined with. Another part of the theory exam we test the girls on is their English skills. To be a successful erotic massage masseuse in London it is essential you have basic English as it allows for better communication with customers. 
Practical – When it comes to the practical exam, we test the girls based on their massage skills and techniques and how well they perform in the art of Tantra and seduction. We send our masseuses on placements to our top massage parlours across London, where they not only get a chance to work on their trade but to also gain some skills from some of the best in the game. We also test the masseuses on their customer service skills, putting them through online courses and making them work on reception whilst they are training as it also allows them to practice their English. 
How long do the masseuses train for?
The length of training time for each masseuse varies and depends on their prior training, their natural ability as a masseuse and have fast they learn. We make sure we choose girls who we know have the potential; therefore we are happy to provide extensive training until they are ready to perform on our customers. 
What ages are the masseuses?
For health and safety reasons, we only allow masseuses who are 20+ to work for our company. We have a wide range of ages from 20 years old and onwards, providing both young women and mature ladies for our customers. Although our mature ladies may have more experience, we train our younger masseuses to the highest degree to ensure they are at the same level as their colleagues. 
Where are the masseuses from?
We always want to ensure you receive a true and authentic Asian massage experience with Hotel Massage London, which is why we only ever hire genuine Oriental masseuses. Our girls hail from China, Japan and Korea and have been carefully hand-picked to work in the U.K. 
Do all the masseuses perform the same services? Yes, all of our masseuses are trained in and perform the same massage styles. However, naturally, we have a certain masseuse who might have more experience in certain areas and specialise in particular massages. For example, we always use our Japanese masseuses to perform the "Nuru" massage as it originates from Japan. 
If you would like to book an erotic massage with one of our experienced masseuses then please do not hesitate to contact us via SMS, phone call or SMS. We are open daily from 10 am until 3 am, and take bookings as little as ten minutes before your desired time. Our friendly receptionist will be happy to answer any questions or queries you may have regarding our services.