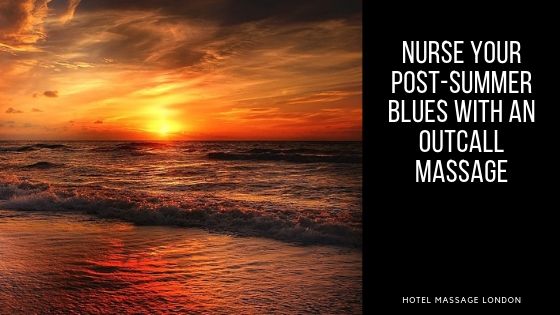 Nurse your post-summer blues with an outcall massage
Forget them blues! get an Outcall massage in London
The beginning of September often marks the starts of our low moods. The warm weather has come to an end, there are no more sunny getaways left in the diary and there's less chance of your work colleagues suggesting the pub after a long day at the office. However, here at Hotel Massage London we have got your back and have the best thing in mind to nurse your post-summer blues. Gentlemen, allow us to introduce you to outcall massage.
So what is outcall massage? Well, outcall massage (also known as mobile massage) is the most luxurious service of them all, as instead of enduring the grinds of London traffic to get to the parlour the masseuse will make their journey to you in a location of your own choice. This can be anything from a hotel, house or apartment. So let's get down to the dirty, how does outcall massage iron out your summer blues?
It uplifts your mood
The long summer night might start to draw to a close, but that doesn't mean you have to doss around at home binge-watching Netflix with an oversized tub of Ben and Jerrys. Instead of being down in the dumps home alone, outcall a gorgeous oriental masseuse to your place instead. Not only is enjoying the company of a stunning girl enough to put a smile on your face, but science also shows that erotic massage can help boost your mood. This is because erotic massages stimulate a cocktail of orgasms, which include the 'feel-good' hormone Oxytocin. Not only does it encourage euphoric thoughts and feelings, but in the long term, it also allows the receiver to feel more positive, motivated and ultimately be in a much better mood. If you're a sufferer of anxiety and depression, erotic massage can do wonders at encouraging a much healthier mind.
It stops you from getting sick
When the days get cooler, the chances of us contracting the common cold are much higher. However, studies have shown that erotic massage is the secret remedy to stop you from being sick. This is because the soft, slow and soothing slides increase the white blood cell count within the body. White blood cells are known by doctors as a vital component for strengthening the immune system, which ultimately makes the chances of getting sick much lower. Booking an outcall massage to your home or hotel also decreases the risk of becoming sick, as it allows you to indulge in the warmth of your residence instead of trekking around London in the cold to find an erotic massage parlour. 
It decreases stress
September often calls for one thing for many people, back to work. Returning to your job after a few relaxing weeks off is often super stressful, whether it being heavy workloads or new targets dragging you down. However, instead of suffering through your stresses in silence opt for an outcall massage instead. Erotic masseuses are stress reliever wonderworkers, as they are able to knead out the 'stress hormone' cortisol from overworked areas of the body, including the neck, back and shoulders. They will then turn their attention to the more intimate areas to unwind out more stresses by the power of orgasm. Outcall massage is available from 10 am to 3 am, meaning you can enjoy the massage to kick-start your day, on a cheeky lunch break or in the evening. Our flexible working hours means our masseuses are here to attend to you at whatever your time of need. 
Book an outcall massage
If you're feeling a little down and the dumps this September then do make sure you book one of our smoking-hot, professional and insanely talented oriental therapists to an address of your choice. Our five-star outcall massage London packages are available for as little as £160 in Central London and £180 in locations further afield, including Heathrow, Canary Wharf and Greenwich.  We have more than 10 styles and over 12 masseuses to choose from, you're sure to feel like a kid in the candy shop. To check the rota, find out which massages we offer or to make a booking then please drop us a call or SMS today 07818115228