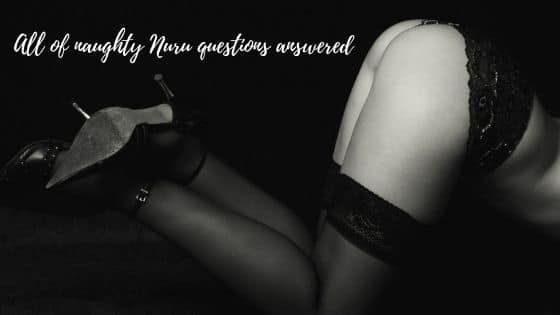 All of naughty Nuru questions answered
Let's get physical
Do you want to try Nuru massage but feel like you don't know much about the naughty bodywork? Well don't threat, we have put together a Q+A to answer ALL of your burning questions. You can thank us with a moan and groan later…
What type of oil is used?
Compared to other erotic massages, Nuru massage incorporates a whole lot more skin to skin contact using the therapist's boobs, bum and other intimate areas. Using standard massage oil would potentially cause friction, which would cause you to wince (for all the wrong reasons). Therefore, Nuru practitioners use a specialised known as Nori gel, which is created using Japanese seaweed. Nori gel is super slippery and makes every slide and grind extremely effortless. 
Is Nuru performed on a bed?
Instead of a bed, Nuru is usually performed on a specialised Nuru blow-up mattress. This is because Nori gel is super sticky and runs the risk of staining the bedsheets. Performing Nuru on a blow-up mattress means the therapist can easily wipe down and clean the surface straight after the massage has taken place. 
Can I have Nuru full service?
Yes, of course, you can have Nuru full service! When at an erotic massage parlour you are given the choice of two Nuru packages – these being Nuru happy ending and Nuru full service. Nuru happy ending comprises of the full body Nuru massage, followed by hand relief, while Nuru full service also comprises of the delicious elements of oral and penetration. But let's be honest, why would you limit the fun to a happy ending when you can experience the full thrills and higher heights of pleasure with the full service?
What happens if I orgasm early?
If you suffer from premature ejaculation or sometimes get a little too excited and orgasm early then don't threat, most erotic massage parlours (including ourselves) give you the opportunity to go twice during a one hour session. Nuru therapists also perform a specialist technique known as edging, which helps to build the sexual intensity and delay the orgasm for as long as possible. You can trust us when we say you're going to last a LOT longer than 30 seconds as part of Nuru massage. 
Will Nuru be performed in private?
Of course, just like other erotic massages clients are always given their own private treatment room for the Nuru massage. The rooms usually comprise of a blow-up Nuru mattress, a walk-in shower and mood lighting, which can be tailored to your particular preference. 
Can I have Nuru with more than two girls?
Yes, most erotic massage parlours including us, offer the opportunity to get down and dirty with two girls as part of Nuru. The service is known as Nuru four hands and can be performed in whatever way you want. Whether you want the two therapists to rub you down in unison or you prefer them to attend to different areas of your body is entirely your choice. Nuru four hands are designed for clients who really like to push the boat out, as it can fulfil all of your wildest fantasies and more. 
Can I have a shower?
As mentioned before, Nori gel is rather sticky and can get everywhere.  However, you shouldn't worry – as massage parlours offer a complimentary shower, complete with towels and soaps for all Nuru clients. If you're not ready to end the fun, then there's always the opportunity to invite your therapist for an assisted bathing experience for just £20 extra. 
How do I pay?
Like all other massages offered in an erotic parlour, Nuru is accepted with cash payment only. Please note, that Nuru is classified as a premium service so does cost a little more than generic styles (usually £20). The business will be carried out at the start of your appointment, so you're then able to fully kick back and relax and enjoy the wonders of your Nuru experience. 
Book a Naughty Nuru massage today
What are you waiting for boys? It's time to book a naughty Nuru massage with Hotel Massage London today. We host a range of oriental masseuses who can't wait to get hot under the covers and have some steamy Nuru fun with you, at all hours of the day. Call us between 10 am to 3 am, seven days a week to arrange your seductive Nuru session with the best masseuses in London town. This is a sexy session not to be missed!