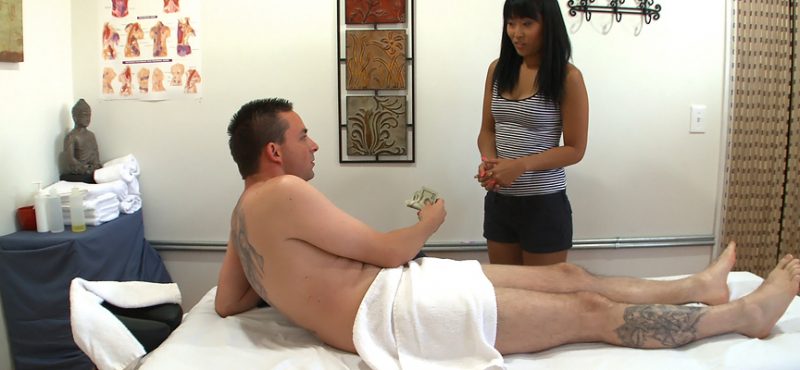 Everything You Wanted To Know About Happy Ending Massage
Asian happy ending massages exist all around us. They're wildly popular on porn websites, plastered over our Internet browsers in the form of popups and a (probably) regular feature in many of our fantasies. A happy ending massage is a notorious favourite in the deep underbelly of the scandalous world of erotic massages. But what are they exactly and what really happens during one in real life?
In some ways, an erotic or sensual massage is like a standard body massage in that it involves a full rubdown of the body. This leaves the client in a state of tranquillity and relief from muscle tension. However unlike a normal massage, an erotic massage is designed to arouse the body. Every part of the body is massaged, including the sexual areas. Erotic Asian massages are rooted in the belief that sexual release is the ultimate release. Supposedly, the body contains various life energies and unbalance leads to illness. Arousal and orgasm would rebalance these energies, release any trapped ones and voila! You'd be freed from stress and anxiety.
There is some truth to this. How many of us have resorted to sex or masturbation to help us sleep at night? A little playtime never hurt in helping us drift off. And it's difficult not to bask in that post-orgasm glow. It's scientifically proven that orgasms are good for us. During and after one, a cocktail of feel-good hormones are released into the bloodstream:
Oxytocin – the 'love hormone' responsible for calming and creating relationship bonds
Dopamine – the 'pleasure' hormone responsible for motivating and allows us to see 'rewards' and move towards them
Prolactin – the 'relaxing' hormone responsible for reducing anxiety
Serotonin – the 'happy' hormone responsible for being a mood stabiliser
Asian massage therapy holds a long and proud history. Happy ending massages were born as a separate branch when many countries banned the explicit selling of sexual intercourse for profit. Sex workers adapted by selling erotic body massages instead and because there was no penetration involved, the law turned a blind eye. Such massages were so addictively salacious, they shot in popularity and gained an international reputation. Now there are massage parlours offering happy ending services in Western nations as far-flung from Asia such as the UK, America and Australia.
As we've said before, erotic massages stimulate the sexual body parts with the aim of arousal and orgasm because it is the ultimate cure for stress. A happy ending is an orgasm, so a happy ending massage will conclude in whatever way might result in an orgasm – whether that's a handjob, oral sex or sexual intercourse. Most therapists tend to offer 'hand only' services.
Typically, all types of erotic Asian massage will start off in the same way. They will open with a full body massage that's intended to relax the body and mind. The masseuse will pay extra attention to areas that are prone to tension, such as the neck, shoulders and back. Once the client is sufficiently relaxed, the erotic session will begin. The masseuse will incorporate erotic techniques into the massage, using them alongside traditional methods. She may use quick finger pressure (shiatsu) alongside sensually stroking down the body, then switch to pressing the base of her palms in. This variation in technique will keep the client's mind engaged and on the edge of excitement. They will be anticipating the sensual touches and every time it feels as though the masseuse is about to arouse them, it will go away. It's frustrating but intensely pleasurable.
The point of an erotic massage is to build sexual tension and arousal. Once the client is sufficiently aroused, it'll be time to flip over. The same teasing will commence on their front, but this time it will be even more maddening. The masseuse may run her hands down their body, tracing circles around the client's sexual areas. Occasionally, she may stroke their part. When the arousal has reached its peak several times, the masseuse will totally focus on the sexual area and stimulate the client to the happy ending.
This practice of 'edging' is tremendously beneficial for orgasm control and can help sexual impotence. Learning how to control your orgasm can improve your sex drive and not only will it give you a more powerful orgasm but pave the way for much more fulfilling, enjoyable lovemaking.
Happy ending massages have developed a somewhat seedy and sleazy reputation over the years. While 'happy ending' is a vulgar term used to describe orgasm and such massages have erotic roots, they hold many vital health benefits, including:
Better orgasms
Stress and anxiety relief
Improved blood circulation and immune system
Relief from muscle aches and strains
Improved sex drive and sexual impotence
Relief from prostate problems and ejaculatory issues
Getting an erotic or happy ending massage isn't embarrassing. From overworked businessmen to people in relationships with intimacy issues or a dying flame, they are a secret ritual in the lives of many people. And contrary to popular belief, a happy ending massage doesn't ruin marriages – it can actually save them! A professional erotic masseuse knows exactly how to please your body but within proper guidelines. They know how to reignite the flame that you might have thought died a long time ago, so you can go back to your partner, ready to revive the chemistry.
If this is exactly what you need, try our happy ending massages. For £140 for an hour of sexual gratification, you can't go wrong! You can find out all about what a happy ending massage would entail on our dedicated page here > Happy ending massage london