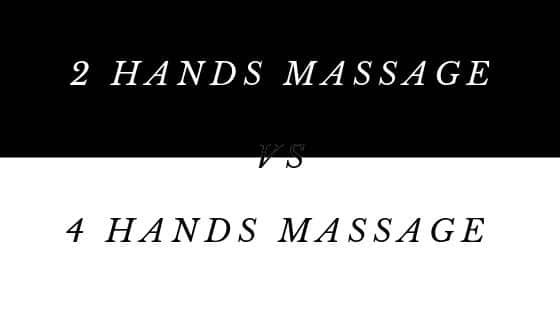 How many masseuses a man could have in one booking
2 hands massage vs. 4 hands massage
When it comes to erotic massage therapy, the session is designed to give you the best possible massage experience. Therefore, our massage parlour will always do our best to ensure that we cater to your specific needs and desires to suit. We care about customer satisfaction which is why we always strive to make your session a dream that has become a reality.
When asking for a massage, many of our customers are confused about what they do and don't have a say over. Here's a little help –
What you will have a choice of;
Number of masseuses

Masseuse

(age, appearance, nationality

The type of service

(massage)

you have, e.g. Happy ending, prostate massage, Nuru massage

Length of massage session

(1 hour, 2 hours etc.)

Incall or outcall service

Use of lubricant/massage gels and oils or not
One masseuse
Most of our customers opt for the usual set up of just one masseuse as they want a more intimate experience and it is also cheaper. However many men choose this option because they are unaware of what a four hands massage is and that this sort of massage is possible.
Four Hands Massage
If you are unsure about what a four hands massage is, the clue is quite literal in the name – our four hands massage service features two masseuses working in faultless harmony to give you a memorable sensual experience with feelings that last for hours after. For many men, the ultimate fantasy is two beautiful women at once, and with us, your deepest fantasies can become a reality. Our four hands massage is not restricted to any type of massage style. You can combine this unbelievable experience with our tantric, sensual, lingam or even our Nuru massage. Imagine two beautiful naked women attending to your every desire, you may find it hard to go back to just one ever again.
Our four hands massage enables the masseuse to reach more of your body at the same time. One girl could be easing tension in your shoulders while another could be pleasuring you in ways you never thought possible. Combined with our other massage styles, the pleasure is even more intense. Imagine two experts in tantric massage building up your pleasure to unimaginable levels over and over again, before giving you the most intense orgasm you've ever experienced. Most men who have four hands massage therapy said it makes their orgasms last longer and helps with their performance afterwards.
What your session will involve
The four hands service is our most sought after and memorable massage style, which is why we offer it for both incall and outcall services in central London.  It is normal to feel anxious or nervous about having one, particularly if it's your first time. However, we are confident that our masseuses can make you feel at ease as they are trained to relax you as much as possible. In our parlours, or in the comfort of a location of your choosing, there is no pressure to perform, only the obligation to lie back and relax while two expert masseuses do everything they can to deliver you with the most intensely pleasurable experience you will ever have.
Is it expensive?
Four hands massage london  services are more expensive than having one masseuse, but you certainly get your money's worth. For your fee, you get a 1-hour massage, a choice of incall our outcall, and a choice of happy ending or full service. You can also add other extra services such as prostate massage or Nuru massage. You will have the option to choose a girl from our group of Japanese, Chinese, and Korean therapists and depending on which service you opt for, be as intimate with them as you like. We pride ourselves on safety and hygiene, so you are encouraged to shower beforehand (You can also have this assisted) and ensure your genital area is as neat and tidy as possible. If you opt for full service (i.e., oral and penetration) you will be required to wear protection, which will be provided for you.
If you would like to book a massage with more than one masseuse in one of our central London massage parlours, then please contact via SMS, phone call 07818115228 or by email hotelmassage.co.uk@gmail.com