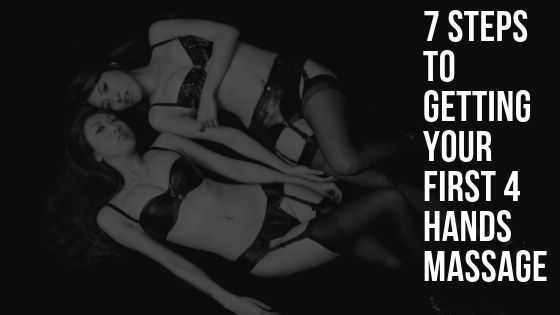 The seven steps of getting your first 4 Hands massage
You will never have an experience like it.
Always wanted to book four hands massage but not sure what to expect? Well, we're here with the seven steps of your first four hands treatment, you can thank us later…
Cherry-pick your therapists
So it might be obvious, but with four hands massage, you get to the choice of not just one, but two gorgeous therapists. Once you've been greeted by the parlours hostess with the mostess, you'll be taken to the plush welcome lounge where you'll be able to meet the masseuses and cherry-pick your favourites. And believe us, you'll be spoilt for choice with firey pocket rockets, hourglass goddesses and glamour models. If you simply can't wait to choose (or booking a four hands outcall) then you can always select your therapists from the *masseuse gallery*. Our around-the-clock agents are on hand all hours of the day to assist you with the availability of the therapists and the locations they are working in.
Pay for your service
Once you've chosen your therapists, it's best to get the boring side out of the way and pay for your massage. Four hands packages cost around £240 with happy ending or £320 with full service. Remember erotic massage parlours usually only accept cash payment only, so do make sure you arrive with the correct amount of money.
Shown to your own private treatment room
Erotic parlours are not like any other massage clinics, they are super plush and usually resemble ultra-lavish five-star hotel rooms. For obvious reasons, four hands are always performed in the parlour's biggest treatment room, which will be completed with a super king-sized bed, walk-in shower and mood lighting. Once guided to your own treatment room the girls will begin to strip to their sultry underwear and undress you to your comfort level. Whether that being completely naked or with a towel to cover your more private areas.
You'll be given a full body massage
Once undressed, the therapists will navigate you to the bed, warm the massage oil and begin to caress your less sensitive areas, including the neck, back and shoulders. These strokes will be performed symmetrically and in unison, which is designed to make your whole body and mind to switch off and immerse yourself into a seventh heaven relaxation. Erotic masseuses are wonder-workers at reading your body and when they feel like you are totally relaxed, they'll start to turn up the heat and manoeuvre their tantalising fingertips to your erogenous zones.
You'll be given hand-relief
Once the therapists reach your erogenous zones, it won't be too long until your given hand-relief – which is a stable element of a four hands massage. Enjoy the jerks, cups and strokes all over your lingam which are guaranteed to make you harder than a rock. If you play nice the therapists might even get their voluptuous lips involved.
Intercourse?
Intercourse as part of a four hands massage is optional, but of course, is something we hugely recommend. It's not every day you can get hot and sweaty with two beautiful babes as they sensationally slide and grind their flawless figures all over your naked body. Intercourse is part of the full service package and is designed for those who love to drive themselves wild in fifth gear. Considering you're already on this page you definitely do have a taste for adventure.
The best orgasm of your life
When we say four hands will stimulate the best orgasm of your life we sure do mean it. Erotic therapists are trained in a euphoric technique known as edging, which means they'll delay the orgasm to enhance their pleasure and intensity. Your toes are guaranteed to curl, your spine will shake and your knees will go weak as you experience the fine orgasm which comes with four hands massage.
Get wet 'n' wild in the shower
After you and your gorgeous ladies have worked up a hot sweat (for all the right reasons) you can enjoy an assisted shower as a delicious finale. Not only will it give you one last chance to get up, close and personal with your stunning therapists but it'll also help to cleanse and cool your muscles down after a smoking hot rub down.
Book your next four hands massage
Four hands is a pretty awesome experience, so it's no surprise you'll want to book again and again. Discuss your schedule with your therapists and find a time to book in your next four hands session. Once you get on the full thrills four hands bandwagon, you'll surely not want to get off.
If you're interested in 4 Hands Massage then please contact our friendly and helpful reception team between the hours of 10am to 3am, seven days a week. 07818115228